He said that while he was beyond thrilled for Jenny…
His main work was as health professional…
And that helping beat addiction was such an important, live-saving job…
So he didn't want to abandon his life's calling.
It made sense, and we both respected it…
But what Jenny quickly pointed out to Mike…
Is that the simple, 5-second breakfast trick he'd shown her was equally important.
"It saved my life," Jenny said…
"And there's no doubt it will save the lives of countless others too."
That made Mike pause and reconsider…
And when me and Jenny told him that we'd handle everything for him…
Sourcing the five ingredients from the most pristine locations across the earth…
Finding a U.S. manufacturer who could take the ingredients and combine them into a single, easy to swallow pill…
Building this website, putting up advertisements, getting the message out…
And that all he needed to do was keep an eye out for ways to make his formula even better…
Mike finally signed on…
And we are SO happy he did…
Because that's when ALIVE was born.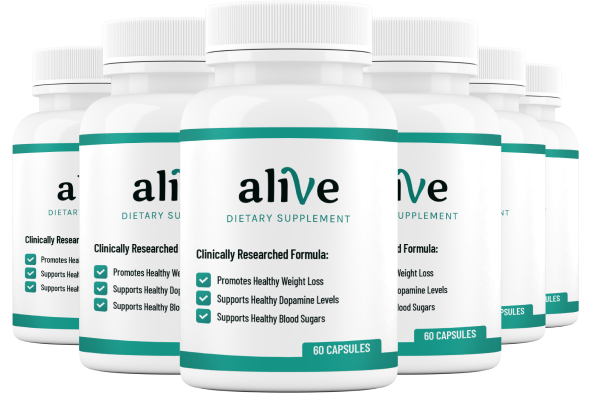 Let me tell you, direct from my heart…
If you're ready to drop pound-after-pound of fat…
STOP your cravings and STOP overeating…
To END the cycle of failed dieting…
To goodbye to the sinister fat that's been stalking your body since your twenties…
ALIVE is the answer you've been looking for.
It's the only weight loss supplement in the world that targets one of the REAL causes of your cravings and struggles – dopamine…
And it's also LOADED with proven fat burning ingredients that are backed by real science conducted on real humans.
Even better, every single bottle of ALIVE is manufactured right here in the United States…
In a state-of-the-art facility that is Good Manufacturing Practices certified and also FDA Registered…
And we've spared ZERO expense when it comes to the ingredients you'll find inside ALIVE…
Every capsule is organic, vegetarian, non-GMO, and contains absolutely zero fillers.
ALIVE flat out works…
And the ingredients inside are already helping women across the U.S. more to see real, long-term weight loss…
Even folks who used to think they were a "lost cause"…
And there is ZERO reason you can't be the next success story.
From the very first day of using ALIVE you're going to notice a big difference in your energy…
You'll likely feel much calmer…
And many folks report that their mood is significantly better on Day 1 too.
Which makes sense, since ALIVE is helping to support the production of dopamine…
And stable dopamine levels are associated with calmness, focus, and an improved mood.
Then after that is when the weight loss starts happening…
And with each day that goes by…
You'll be staring into the mirror and noticing how the fat is disappearing from your stomach, arms, legs, and face…
And when it comes to your neck, chin, and cheeks…
You may even find that those areas appear tighter, firmer, and younger too.
That part is a LOT of fun…
And so is what happens to your skin…
The way your wrinkles and fine lines can appear to fade away…
While a healthy glow begins to spread across your entire face.
It's not uncommon to notice that with weight loss, your aches and pains start to feel better too – sometimes they disappear altogether…
And probably the best part of all…
Is how your friends, family, and colleagues are going to start noticing the changes in you too.
Trust me – they won't be able to hold back the compliments…
And I will warn you…
When people are constantly stopping you to ask "what's your secret" it can even get a little annoying…
Though I hope you'll be patient…
Because remember: these people look at you as a role model now and they just want to follow in your footsteps.
They may not believe you when you tell them that all it takes is one small capsule each morning, right when you wake up…
But it's really that simple:
You simply take five seconds at the start of the day to swallow your daily dose of ALIVE…

Add this ritual to your healthy diet and exercise routine…

And the pounds can melt away.
Plus, what's even more exciting is that I've got a special surprise for you…
Something that makes ALIVE even better at helping you to cut weight from your hips, your belly, your neck, and every other part of your body.
You see, in addition to those 5 initial ingredients…
We consulted with Mike Hamilton and then added 7 more powerful, heavily-researched ingredients to ALIVE…
A blend of proven nutrients that have been shown to help support healthy dopamine production…
And promote healthy weight loss throughout your body.
Plus, these same ingredients can have a huge positive impact on your energy and mood too.
These ingredients include: organic Ginger Rhizome, Bioperine Black Pepper Fruit Extract, Green Coffee Extract, Acetyl-L-Carnitine, high-potency Vitamin B3, Guarana Seed Extract, and White Willow Bark…
Each one included at clinically supported dosages for weight loss, energy, dopamine support, and more.
Once we added these ingredients in, it was pretty shocking…
Folks who had already lost 20lbs started losing even more weight in less time…
While reporting that their energy was through the roof…
And today you'll find all of these ingredients inside ALIVE.
And now that you've seen how my wife Jenny was able to lose so much fat…
And how women and men across the country have been able to do the same thing…
Thanks to the scientifically-backed ingredients that ALIVE contains…
I want to ask you an important question:
Imagine it's some point in the future, and you're looking into the mirror:
Who do you want to see staring back?
A skinnier, sexier, younger-looking, and happier YOU…
Or a YOU who still feels stuck.
The YOU who is still the same weight as you are right now maybe even heavier.
The YOU who feels tired and exhausted , with achy bones and a foggy brain?
I want you to be honest with me…
Who do you want to see?
Of course the answer is the skinnier, sexier, and younger version of yourself – it would be crazy if it wasn't…
And that's why it would break my heart if you missed out on this opportunity that's in front of you today.
And yet, if you don't get your hands on ALIVE right now…
Then I don't know what's going to change.
If you don't take action today, you may always remain a hostage to your fat.
Your stomach growing…your face drooping…your skin sagging…
More of your former go-to outfits no longer fitting…
More feeling ashamed when your spouse sees you naked…
More anger at yourself that you're this way…
More HATING that you haven't made these crucial changes to your health.
I'm not trying to be harsh, you have my word…
But it's my DUTY to make you think about these things…
And then to REJECT them…
Because the truth is, it doesn't need to be this way at all.
You can fight back against dopamine spikes, cravings, and fat build-up starting immediately…
While WOW'ing your friends, family, coworkers, your spouse, and everyone else in your life.
All it takes is the 12 proven ingredients inside of ALIVE…
And here's the great news…
Even though we are constantly at risk of running out of bottles of ALIVE…
And when that happens, we can get backordered for months at a time.
Right now, if you're on this page…
It means we've got at least SOME bottles in stock…
And those bottles have been reserved for readers of this letter.
But if you're ready to truly transform every aspect of your life, you need to act now before we run out of bottles again.
ALIVE is so powerful and so effective that word has already gotten out…
Men and women across America are discovering this amazing formula for themselves…
And that means we've got a big problem of supply vs. demand.
Our warehouse shelves are constantly at risk of going bare…
And we're constantly worried about running out of ALIVE.
Whenever that happens, men and women are forced to wait months for the next batch of ALIVE to be produced…
And I don't want you to have to wait…
Which is why we've set aside a small handful of ALIVE for people to order from this website only.
As long as you're one of the next 217 people who order today…
You'll receive your supply of ALIVE rushed to your door.
[Oh and I know how annoying it can be to order something online, only to be charged every month automatically. So you can rest easy that you won't be charged again after this order, unless you come back to our website and manually order more.]
So if you're ready to start burning pound-after-pound of fat…
You really need to act right now.
Think about how much you've probably spent on other so-called weight loss solutions in the past 5 years.
You have the opportunity to put an END to the addictive cycle of diet-fail-diet-fail-diet-fail…
And even though that's gotta be pretty much priceless…
Right now, you can get a single 30-day supply of ALIVE for a one-time investment of just $59.
That's right…
Just $1.97 per day to burn through pound-after-pound of your most hated body fat…
To potentially feel as though you're turning back the clock…
To support healthy blood sugar, healthy cholesterol levels already in the normal range…
And to elevate your energy and your mood.
Yet while that's already an incredible opportunity – less than the cost of a single gallon of gas in most states…
It's actually still just the start (here's how you can get an even bigger discount on ALIVE).
You see, because so many folks become obsessed with the results they get from ALIVE…
And because so many folks have a lot of weight to lose – and are so motivated to keep that weight off…
Virtually all of our customers end up ordering six bottles of ALIVE at a time…
And the few who don't nearly always get three bottles instead.
It makes sense – especially since it's so hard to keep ALIVE on the shelves…
And there's nothing worse than using this five second a-day breakfast trick…
Finding that you are becoming lighter and happier every single day…
But then you come back to this website and see a big banner that reads OUT OF STOCK.
That sucks big time, and it's not worth the risk…
And since so many of our customers are making the smart decision to stock up on 6 bottles of ALIVE at a time…
Jenny and I have decided to do something special here…
And provide an even bigger discount of ALIVE to folks when they stock up.
So right now, when you get a 3 month supply, it'll only be $49 per bottle, which is just $1.63 per day…
And even better…
If you make the most popular choice and stock up on the 6 month supply ALIVE is just $39 per bottle.
Which brings your daily investment in your weight loss to just $1.30 per day.
I mean think about it: national minimum wage is $7.25 per hour…
Yet for just $1.30…
About 1/45th of what someone on minimum wage makes during a typical 8 hour shift…
You can get your daily dose of this science-based weight loss formula…
Something that can have the pounds melting off in your very first week.